OBITUARY

Ralph Clarence Laltoo
1915-2004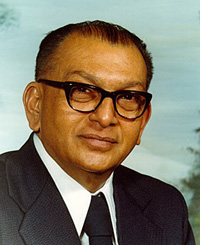 Mr. Ralph Clarence Laltoo, B.A., M.A., B.Ped., 88, of 66 Briarwood Crescent, Centennial Place, Moncton, passed away on Thursday, August 26, 2004.
Son of the late Rev. Henry and Ethel Laltoo of Trinidad, West Indies, he was the husband of Marjorie (nee Mulchansingh), father of Heather, Hayden and Hans, father-in-law of Ronald Ferguson, Sharon (nee Stevens), and Mary (nee MacBeath), grandfather of Gregory, Alexandra, Devin, Reanna, Andrea and Lindsay; and brother of Mrs. Nora Lochan of Guelph, Ontario, and Mrs. Margaret Jagessar of Kingston, Ontario.
After completing his secondary education and teacher-training at Naparima institutions in Trinidad, he studied at Dalhousie University in Halifax, N.S. and received the B.A. degree with Distinction in 1941 and the M.A. in English in 1942. Proceeding to the University of Toronto, he received the Degree of Bachelor of Pedagogy in 1943. Back in Trinidad thereafter, he served as Dean of Studies and Head of the English Dept. at Naparima College for ten years, thence as English Master and later Principal of Queen's Royal College and also Founding Principal of Northeastern College.
Upon his retirement from the teaching service in Trinidad, he returned to Nova Scotia where he taught English at the Regional High School in Shelburne for eleven years. He retired finally in 1981 and took up residence in Moncton. Mr. Laltoo was a member of the Mount Royal United Church and served on the Church Council for ten years. He was also a member of the Church Choir for fifteen years.
Mr. Laltoo was also a 32 degree member of the Fraternity of Freemasons and in May 2003 was presented with his 50-year Certificate and Pin by the Grand lodge of New Brunswick. The Masonic bodies to which he belonged include the following: Acacia Lodge, Botsford Royal Arch Chapter, Ivanhoe Preceptory, Tantramar Council Royal & Select Masters, Monckton Lodge of Royal Ark Mariners, Northumbria Tabernacle, Eastern Canada Priory, Britton Chapter Rose Croix, the N.B. Sovereign Consistory and Luxor Temple.
Visitation for the late Ralph Clarence Laltoo will take place on Sunday, August 29, at Fair Haven Funeral Home 1177 Salisbury Road Moncton, from 2pm to 4pm and from 7pm to 9pm. A Masonic service conducted by Acacia Lodge #49 will be held on Sunday, August 29 at 6:45 pm. Funeral Services will be held at Mount Royal United Church, Moncton, on Monday, August 30, at 2pm, immediately followed by a reception in the church hall.