pineapple sky
2004~june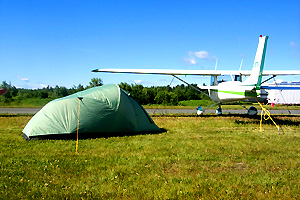 Sherbrooke fly-in...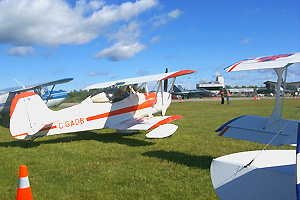 Smith mini-plane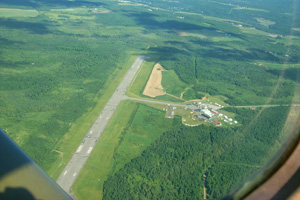 "Sherbrooke traffic, Delta Mike Alpha, dancer in the wind, dreamer in the light, descending upwind to join left downwind for 32...

June 21, 2004
....the latest

flying in

The fifties and sixties invented a collective noun and adjective, formed by adding the prepositional suffix "-in" to a verb. First we had a "drive-in", originally for movies, later expanded to burgers, coffee, car-washes and bank-machines. (I keep hoping for a drive-in hair-cut: there's another goldmine opportunity waiting for someone). Then we had a "sit-in" to occupy premises in protest of a cause, and "love-ins" to celebrate music and life. This was followed by a "phone-in"; and best of all, a "fly-in".

This last is a particularly North American event, whereby people "fly" their small planes "in" to a congenial spot. They camp, have breakfast, admire one another's aircraft, and the pilots murmur knowledgeably to one another about the danged drop-out on final in the brisk wind. Sometimes there are specialty sales, hangar talks and spot-landing contests. The grand-daddy of all fly-ins is Oshkosh, Michigan, where thousands of planes arrive every year from all over the States and Canada.

Owing to higher costs, more bureaucracy, and less personal disposable income, there are probably fewer pilots and small planes flying now than in the seventies, but fly-ins still take place.

Back in Nova Scotia, the flying folks have had the longest running annual fly-in at Stanley airport, every Labour Day weekend for about thirty years. Sometimes over 100 planes fly in to that one.

There is an event of similar character here in Quebec at Sherbrooke, in June. This year there were about 60 planes. At 10am, prime brekky time, they were pouring across the airport in the prescribed manner to join left downwind for runway 32, materializing magically on final, chirping sharply thrice onto the runway into a tricky x-wind, and snarling into the infield in a continual stream. Although not a large number, the variety was amazing: At one point, I could not think of a name of small plane that was not on the field: Pipers, Cessnas, Navions, Mooneys, Pitts, Luscombes, Ercoupes, Buccaneers, ultralights - they were all there. (OK, so there wasn't a Maule). Even a grey CF-18 Hornet came in on promo from the Canadian Forces: a beautiful sight trailing wing contrails at low altitude in a clear blue sky, eventually landing in less than 2000-ft (at the taxiway in photo at left), to be framed on the runway under the large, tipped, triangular, yellow sail of an ultralight kite.

The grounds were alive with planes being marshalled to and from various spots, with eloquent twiddles of batons. The late Alfred, had he been present, (he is not late because of using a sundial, but more by the passage of a century), would no doubt have yipped ecstatically:
"The roar of motors in the luminescent air,
the soughing of innumerable props".
By the time the barred clouds were blooming the soft-dying day, and the charmed sunset was ling'ring low adown in the red west, I was pleasantly surfeited with the delirious vibes of atmospheric existentialism. Beautiful weather, beautiful day.