The CD features 13 tracks of popular tunes, obviously well-arranged, well-rehearsed, and well-played. The group's long-time first leader, Pan-Man Pat, (brother of Russell McNeilly who taught mid-form math at Naps in the late fifties), arranged 11 of the pieces. His successor, Joe Cullen, (Head of Music at West Humber Collegiate Institute in Toronto), arranged the others. The band was conducted by the Blake Stanfield, another long-time inspiration and mentor of the group.

Demonstrating the successful evolution of steel-band into an international instrument, the players are a cross section of multi-ethnic Toronto residents of all ages, including Trini ex-pats and alumni of various Naparima schools.

Within this context, it is a definite collectors' item. You can play it In your car, immediately swapping realities between the traffic and the hall-mark island sound. You can play it in the kitchen. You can play it when your friends all drop over and sit around talking. You can certainly dance to it, as steel-band dictates you should whenever possible.

The musical performance is tight and well-controlled. Old Oxford-Club whole-night Vat-chasing pelau-guzzling fete-men might say a little too much so; but the CD is definitely aimed at gentler markets and tastes. It cheerfully and comfortably brings the charm of the steel-band sound into the living room.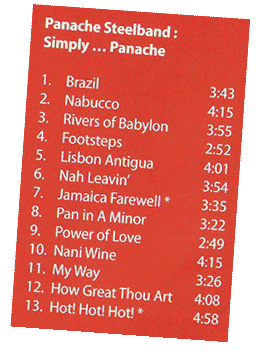 Specific tracks: Panache has been playing the dramatic and popular "Brazil" for a long time, and with a new introduction, it does not disappoint. The same can be said for the Calypso jump-up standard "Hot, hot, hot". The tracks "Nah Leaving" and "Pan in A-minor" are particularly intriguing, as pieces in a minor key often are on steel-band.

The entire package is nicely set off with a CD cover based on an original oil-painting by another well-known NC artist, Ian Angus Ali.

All in all, a great stocking stuffer, and a notable production and performance by the NAAC group - delivered Simply with Panache!