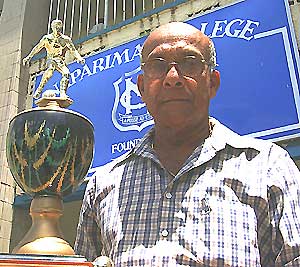 Roy Jagroopsingh, Sports Master, long-time Naps master, and former first eleven student, proudly holds aloft the coveted and hard-won InterCol Soccer Trophy of Trinidad secondary schools

Naparima Sports Masters

Mr Ivan Bissessar 1930's?
Mr Diefenthaler 1930's?
Mr John Braithwaite 1940's
Mr Clifford Ramcharan 1940's
Mr Selwyn Yamin Ali 1953-1960
Mr Victor Cowan, 1961-1964
Mr Carl Osborne, 1964-??
Mr Roy Jagroopsingh, 1993?- 2009


Fred Thornhill's History of Intercol

(updates: here)
For decades, Naparima was outstanding among the school leagues in football (played with the feet), volley-ball, cricket and table tennis. Alas, during my long tenure at the school, we always lost to arch-rival Presentation College in the big final football match of the year, but before that time and since, Naparima has consistently won the southern intercol games.


McDonald Tikasingh captained both football and cricket teams in 1933 or 34. Noor Hassanali, a famous Naparima grad, also played on both these teams under his lead.

Fred Frederick was one of our champion 1940's goalies. Ralph Holder was on the 1st eleven. in 1946; Sonny Lookhoor was an outstanding full-back, who was on the 1941 intercol side captained by Ian Seales. Sonny was also an excellent fast bowler.

Ronald Ramcharan was active in volleyball.

Fred Thornhill,
our illustrious goal-keeper on the 1953 First Eleven,
writes:


"One hundred years of football... Organized football came to San Fernando in 1909 with the formation of the Southern Amateur Football Association (S.A.F.A.). The Association's original team members were: Naparima College, Mascott, Boy Scout, Southern, Philharmonic, Planters and La Pique. Of the original member teams, Naparima is the only one that is still playing football today, and has played continuously for more than a century. Naparima College thus proudly holds the distinction of being the oldest football team in South Trinidad.

Worthy arch-rivals... The 1953 intercol match between Naparima and Presentation was the longest in intercol history, the iconic football battle between the two colleges! It took five hours of play: three replays and three overtime periods - before George Ballah scored the decisive goal that gave Naparima the victory.

National players... Naparima has had its share of outstanding footballers and cricketers. Among them:

Will Payne 1930-35. A San Fernando boy from nearby Irving St, Payne was a remarkable all-round athlete. While still a 17-year-old student at Naparima in 1935, he was selected for the first Trinidad football team that ever toured Jamaica. Payne scored Trinidad's first goal, and the third, to win the match 3-2. A left-winger with an unmatchable burst of speed and a power shot, he was brilliant throughout the series, that Trinidad took home 3-0.

In the first South intercol in 1935, Payne captained the Naparima team. We defeated St. Benedict's 3-1, but lost 6-0 to St Mary's in the first ever North-South intercol.

Payne was also Trinidad's champion table tennis player for nine consecutive years and weight lifting champion in the 148-pound class. He also played first class cricket.

Merle Baird 1939-44. In 1944, the intercol match between St Benedict's and Naps was initially a draw. In the re-play, Merle Baird stood in for the captain, Ian Seales, who had been injured during the first game. Naparima beat St. Benedict's 1-0. The Guardian reported that "Merle Baird who substituted for Ian Seales in the pivotal position was outstanding in the Naparima line-up." H. Norman McDavid the respected sports historian and photographer selected Merle's play in that match as the "best individual performance seen in the first fifty years of intercol in South Trinidad".

Other Naparima boys who went on to represent Trinidad in football after leaving school:

Syl Dopson: - Syl was a member of Naparima's first intercol team in 1935. In 1953 he was selected on the first Trinidad team to tour England.

Ian Seales: 1940-45. Ian represented South Trinidad while still at school he went on to play for Trinidad and was a member of the first Trinidad team that toured England in 1953.

Noel Daniel: 1943-48 Noel represented Trinidad in 1957 and was selected as a centre half on the first West Indian team, which toured England in 1958.

Bertrand Hills: -50. Bertrand was a regular member of the South team and represented Trinidad in 1958.

Leonson Lewis

Shahdon Winchester

Carl Osborne, captain of the only Naparima team to beat Presentation College and take the Cutteridge Cup. He became a successful college football coach taking both Naparima and Presentation to National intercol championships."


In the past decade, Naps has been the consistent champion, not just in the south, but nationally.


---

The old football (soccer) yells....

WHO ARE, WHO ARE, WHO ARE WE?
WE ARE THE BOYS OF N-A-P !
N-A-P-A-R-I-M-A, NAPARIMA!
RAH ! RAH !! RAH !!!


I YI YITTY-KY I YI YIP!!
NAPARIMA, NAPARIMA, RIP, RIP, RIP!!
BUCK UP! N-A-P !!


RATAZAZ, RATAZAZ, ZIM-BOOM-BAH !!
NAPARIMA, NAPARIMA, RAH ! RAH! RAH!
BUCK UP, N-A-P !!