A Tribute to James Lee Wah
(from NGC 2016 publication "Sanfest")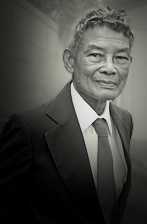 Mr. James Lee Wah was the founder and first Chairman of the San Fernando Arts Council. He was instrumental in the establishment of the National Junior Arts Festival and the Creative Arts Centre. The San Fernando Arts Council is therefore delighted to dedicate this year's NGC Sanfest in honour of Mr. Lee Wah's vision, initiative and foresight in conceptualising the formation of this festival which is now in its 46th year of existence.

We also owe a debt of gratitude to him for his many years of devoted and loyal service to the national community in the fields of education, arts, culture and community-oriented service.

Mr. Lee Wah is the recipient of numerous awards from different organisations for his contributions to arts and culture and has served on state boards in various capacities. He also represented Trinidad and Tobago as part of the contingent for the Caribbean Festival of Arts (Carifesta) in countries such as Nigeria, Cuba, Barbados, Canada and Switzerland.

NGC Sanfest recognises the tremendous and invaluable contribution of James Lee Wah.


---
PROFILE

1942 Won Bursary to Naparima College
1942-1949 Twice Runner-up in Island Scholarship in Modern Studies
1950-1951 Taught at Naparima College
1951 Won Open Scholarship to The UWI Mona, Jamaica
1955 Graduated from The UWI with Honours in English
1956 Dip. Ed. The UWI Mona, Jamaica
1964 Founder/First President – Secondary Schools' Drama Association
1966 Appointed Vice Principal, Naparima College
1969 Founder/First Chairman – San Fernando Arts Council
Established the National Junior Arts Festival and the Creative Arts Centre
1976 Founder/Artistic Director of San Fernando Theatre Workshop
1980 Founder of the National Drama Association
Member of the National Cultural Council
Mr. Lee Wah was also Artistic Director of the San Fernando Drama Guild for over 28 years.


---